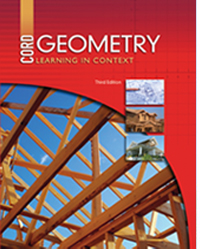 Geometry - Third Edition
Chapter 4: Similar Triangles
After viewing a link, close the browser window to return to this page.
Some links are repeated for use with more than one lesson.
Please report broken links to Kathy Kral
This site applies to the entire chapter.
http://www.freemathhelp.com/Lessons/Geometry_Similar_Triangles_BB.htm
This site contains a video tutorial with notes on similar triangles.
4.1 Ratio and Proportion
http://www.mathleague.com/index.php?option=com_content&view=article&id=80&Itemid=67
NEW This site defines ratio, proportion, and rate, and has examples of each.
http://www.math.com/school/subject1/lessons/S1U2L2GL.html
This page takes an in-depth look at proportion.
4.2 Similarity
http://www.cut-the-knot.org/ctk/Similarity.shtml
This site has an article called "A Case of Similarity" that proves the similarity of triangle theorems.
4.3 Proportions in Similar Triangles
http://www.regentsprep.org/regents/math/geometry/GP11/indexGP11.htm
NEW This page contains links to several pages that explain and provide practice for using proportions to prove triangles are similar.
4.4 Indirect Measurement
http://mathforum.org/sanders/connectinggeometry/ch_09Similar.html
NEW This page includes an explanation of how you can use indirect measurements with similar triangles to measure distant objects.
4.5 Proportions in Right Triangles
https://www.opened.io/?res_id=72581#!/resources/364561
NEW This short video lecture demonstrates using similar right triangles to measure the height of objects.
http://www.regentsprep.org/Regents/math/geometry/GP12/indexGP12.htm
NEW This page includes an explanation and practice for using proportions in right triangles to solve problems.