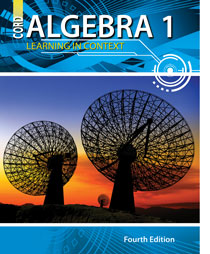 Algebra 1 - 4th Edition
Chapter 1: Operations, Expressions, and Equations
After viewing a link, close the browser window to return to this page.
Some links are repeated for use with more than one lesson.
Please report broken links to Kathy Kral
1.1 The Set of Real Numbers
http://mathworld.wolfram.com/RealNumber.html
This page contains a description of the set of real numbers and what it entails.

http://en.wikipedia.org/wiki/Real_number
This article includes a definition of real numbers, their uses and the history behind them.

1.2 Absolute Value
http://www.freemathhelp.com/absolute-value.html
This page has notes on the definition of absolute value and how to solve for it.
http://www.coolmath.com/algebra/Algebra1/05AbsValueEq/01_review.htm
This site contains a review on absolute value and shows how to visualize it on a number line.
1.3 Adding and Subtracting Real Numbers
http://www.math.com/school/subject1/lessons/S1U1L11DP.html
This page contains notes on adding and subtracting real numbers with several examples.
1.4 Multiplying and Dividing Real Numbers
1.5 Variables and Expressions
http://www.freemathhelp.com/Lessons/PreAlgebra_Variables_and_Expressions_BB.htm
This page contains a video tutorial with notes on variables and expressions.
http://www.mathscore.com/math/practice/Single%20Variable%20Equations/
This site has online practice problems with variables.
1.6 Equations and Formulas
http://www.mathsisfun.com/algebra/equation-formula.html
This article contains a definition and explanation of equations and formulas with examples.
http://www.math-drills.com/algebra/algebra_missing_numbers_operations_0109_variables_001.html
Printable worksheets with many types of practice problems solving equations. See versions B, C, D, etc.

http://www.coolmath.com/crunchers/algebra-problems-solving-equations-1.htm
http://www.coolmath.com/crunchers/algebra-problems-solving-equations-2.htm
Online practice solving equations with addition and multiplication of variables.
1.7 Rates and Unit Analysis
http://oakroadsystems.com/math/convert.htm
This site shows how to convert units of measurement and shares examples.
1.8 Precision and Accuracy
http://www.mathsisfun.com/accuracy-precision.html
This page explains precision and accuracy and has diagrams to show the differences between them.
http://www.chem.tamu.edu/class/fyp/mathrev/mr-sigfg.html
This page summarizes the use of significant digits to correctly reflect the accuracy and precision of measurements, such as with beakers and graduated cylinders. Includes examples and practice problems.