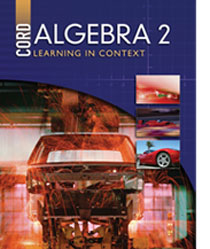 Algebra 2 - First Edition
Chapter 9: Polynomials
After viewing a link, close the browser window to return to this page.
Some links are repeated for use with more than one lesson.
Please report broken links to Kathy Kral
9.1 Operations with Polynomials
http://xpmath.com/careers/topicsresult.php?subjectID=2&topicID=4
This page contains descriptions of jobs that require knowledge of operations with polynomials.
http://edhelper.com/polynomials.htm
This page contains free printable worksheets on polynomials.
9.2 Factoring Polynomials
http://nlvm.usu.edu/en/nav/frames_asid_189_g_4_t_2.html?open=activities&from=category_g_4_t_2.html
This page contains a virtual algebra tile activity for multiplying and factoring polynomials. This website requires Java to run some of its features.
9.3 Division of Polynomials
http://calc101.com/webMathematica/long-divide.jsp#topdoit
This page contains an online calculator for polynomial division that shows the steps.
http://www.regentsprep.org/Regents/math/ALGEBRA/AV4/indexAV4.htm
NEW This page contains links to a lesson and practice for dividing polynomials.
9.4 The Factor and Remainder Theorems
9.5 Solving Polynomial Equations
http://home.windstream.net/okrebs/page25.html
NEW This page contains a lesson and practice on three ways to solve polynomial equations.
http://www.mathsisfun.com/algebra/polynomialssolving.html
NEW - page not found on 1/6/14-recheck later This page presents a tutorial and practice problems on the various strategies for solving polynomial equations.