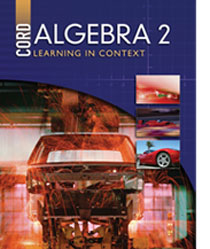 Algebra 2 - First Edition
Chapter 3: Matrices
After viewing a link, close the browser window to return to this page.
Some links are repeated for use with more than one lesson.
Please report broken links to Kathy Kral
The following links are applicable to the entire chapter.
http://www.sosmath.com/matrix/matrix.html
This page contains links to several topics involving matrices including applications.
http://edhelper.com/Matrices.htm
This page contains free printable practice worksheets on various matrix topics.
3.1 Matrix operations
http://www.sosmath.com/matrix/matrix0/matrix0.html
NEW This page presents a simple example to demonstrate matrix addition and subtraction.
3.2 Matrix Multiplication
http://www.purplemath.com/modules/mtrxmult.htm
This page contains a tutorial on matrix multiplication and an animation on how to use your hand to keep track of the steps.
http://www.mai.liu.se/~halun/matrix/
This page contains an tutorial on matrix multiplication.
http://www.easycalculation.com/matrix/matrix-multiplication.php
This page contains a matrix calculator that shows the steps.
3.3 Determinants
http://www.purplemath.com/modules/determs.htm
This page contains a tutorial with animation on finding determinants.
3.4 Inverse and Identity Matrices
http://chortle.ccsu.edu/VectorLessons/vmch16/vmch16_1.html
This page contains an introduction to identity and inverse matrices as well as guiding questions.
http://people.richland.edu/james/lecture/m116/matrices/inverses.html
This page contains a shortcut for finding the inverse of a matrix and steps for using a calculator.
3.5 Cramer's Rule
http://www.wisc-online.com/objects/index_tj.asp?objID=TMH1401
This page contains an interactive tutorial on Cramer's Rule.