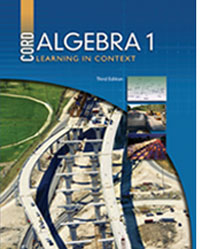 Algebra 1 - 3rd Edition
Chapter 6: Probability
After viewing a link, close the browser window to return to this page.
Some links are repeated for use with more than one lesson.
Please report broken links to Kathy Kral
This site applies to the entire chapter.
http://www.explorelearning.com/index.cfm?method=cResource.dspResourcesForCourse&CourseID=268
This site contains gizmos that demonstrate different probability simulations.
http://education.ti.com/xchange/US/Math/Statistics/9327/ProbabilitySimulations_Student.pdf
A short PDF handout demonstrating how to use the TI-8x family of calculators to generate and tally random numbers, simulating probability experiments.
6.1 Probability
http://www.freemathhelp.com/Lessons/PreAlgebra_Probability_BB.htm
This site contains a video tutorial with notes covering an introduction to probability.
http://www.mathgoodies.com/lessons/vol6/intro_probability.html
This page contains an explanation on probability with interactive examples of probability experiments including dice and a spinner.
http://mathforum.org/dr.math/faq/faq.prob.intro.html
This page contains a definition of probability with examples.
6.2 Experimental Probability
http://education.ti.com/en/us/software/details/en/35444E80EDC34A0CBCD17F3C5EFA0A99/83probabilitysimulation Probability simulation application for the TI-83/84 family of calculators. (Can download as "guest.")
http://www.shodor.org/interactivate/activities/ExpProbability/
An introduction to experimental probability, and several interactive activities to demonstrate it. This website requires Java to run some of its features.
6.3 The Addition Principle of Counting
http://www.tutorvista.com/content/math/discrete-math/permutations-and-combinations/fundamental-principle-counting.php
This page explains the fundamental principles of counting, including the addition principle.
6.4 The Fundamental Counting Principle
http://www.harcourtschool.com/glossary/math_advantage/definitions/fundamental_c7.html
This site contains a basic definition of the fundamental counting principle and an example.
http://www.algebra-class.com/fundamental-counting-principle.html
NEW Short tutorial on the fundamental counting principle, or "sample space,", and using it to calculate simple probability.
6.5 Independent and Dependent Events
http://www.learningwave.com/chapters/probability/dependent_independent.html
This page explains independent and dependent events in terms of examples.
http://www.explorelearning.com/index.cfm?method=cResource.dspView&ResourceID=249
NEW Compare the theoretical and experimental probabilities of compound independent events by drawing colored marbles from a bag.
6.6 Populations and Sampling
http://www.chssc.salford.ac.uk/healthSci/rem99/resmeth/populati.htm
This page explains different aspects of populations and sampling.