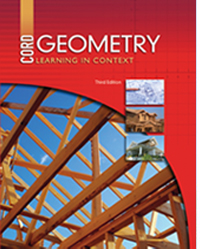 Geometry - Third Edition
Chapter 1: Discovering Geometry
After viewing a link, close the browser window to return to this page.
Some links are repeated for use with more than one lesson.
Please report broken links to Kathy Kral
1.1 Basic Geometric Figures
http://www.mathleague.com/index.php?option=com_content&view=article&id=75&Itemid=67
This site lists the basic geometric figures, defines them, and shows examples.
http://www.wisc-online.com/objects/index_tj.asp?objID=ABM301
This site explains the basic 2D figures and has a matching game at the end of the presentation.
1.2 Measuring Line Segments
http://www.freemathhelp.com/length-line-segment.html
This page explains how to find the length of a line segment by explaining examples.
1.3 Angles
http://www.mathleague.com/index.php?option=com_content&view=article&id=74&Itemid=67
This page explains angles and basic angle terms and includes pictures.
1.4 Constructions
http://www.cut-the-knot.org/do_you_know/compass.shtml
This site has instructions for constructions using only a compass.
http://www.regentsprep.org/regents/math/geometry/GC1/indexGC1.htm
This site contains lessons on basic constructions with practice problems.
1.5 Perpendicular and Parallel Lines
http://www.terragon.com/tkobrien/algebra/topics/perpendicularlines/perpendicularlines.html
This page contains notes on perpendicular lines and has a coordinate grid to display the lines.
http://www.mathsisfun.com/geometry/parallel-perpendicular-lines-planes.html
This page contains nicely illustrated definitions of perpendicular and parallel lines.