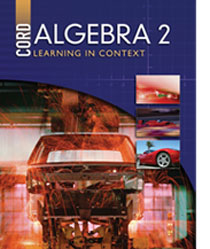 Algebra 2 - First Edition
Chapter 13: Trigonometric Functions
After viewing a link, close the browser window to return to this page.
Some links are repeated for use with more than one lesson.
Please report broken links to Kathy Kral
The following links are applicable to the entire chapter.
http://hyperphysics.phy-astr.gsu.edu/Hbase/trid.html
This page contains a brief review of the trigonometric identities.
http://www.explorelearning.com/index.cfm?method=cResource.dspResourcesForCourse&CourseID=254
This page contains gizmos for exploring various topics in trigonometry. This website requires Shockwave Player to run some of its features.
13.1 Graphing Trigonometric Functions
http://www.themathpage.com/aTrig/trigonometry-of-right-triangles.htm
This page contains links to lessons and practice with graphing trigonometry functions.
13.2 Verifying Trigonometric Identities
http://www.teachervision.fen.com/tv/printables/botr/botr_141_12-12.pdf
This page contains a free printable worksheet on using graphs to verify the identities.
13.3 Angle Sum and Difference Identities
13.4 Double-Angle and Half-Angle Identities
http://www.sosmath.com/trig/douangl/douangl.html
This page contains a lesson on double-angle and half-angle identities.
13.5 Solving Trigonometric Equations
http://www.sosmath.com/algebra/solve/solve0/solvtrig.html
This page contains practice on solving trigonometric equations.